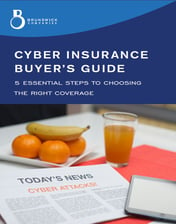 After comparing the most comprehensive policies, we've created this Cyber Insurance Buyer's Guide. Inside are 5 things you need to know to get the best coverage for your business.
It's no longer a matter of if your business might be the victim of a data breach, but when. Whether it's a malicious cyber attack or human error, the continuation of your business depends on your ability to recover.
If your business stores client and employee information electronically, you need cyber insurance now.